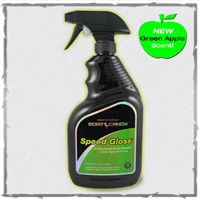 PRODUCT FEATURES AND BENEFITS
Performance Boat Candy™ Speed Gloss™ uses the finest ingredients available to clean, protect, and add a deep gloss finish to your boat or watercraft. This proprietary formula contains the highest grade Carnauba wax and gloss enhancers along with a biodegradable water spot remover to produce a clean, long-lasting shine with UVA and UVB protection. Speed Gloss™ gently removes hard water spots and micro contaminants while adding an additional layer of wax for an unparalleled brilliance.
The PBC Advantage
We created the Performance Boat Candy line of products for the enthusiast that takes pride in the appearance of their boat and only cares to use the best boat care products. Manufacturers, industry professionals, and professional boat detailers agree that PBC's product quality and effectiveness results in some of the best and hottest selling boat care products on the market today. At Performance Boat Candy, we don't just produce great boat care products; we provide a fast and easy-to-use complete boat care system, making it simple for any boat owner to get amazing results at a fraction of what a professional detail job would cost. The PBC Advantage is broken down into two product groups: Base Care and Maintenance. Over time, the surface of your boat's hull can become scratched, oxidized, water spotted, and faded due to normal use and from environmental factors such as UV radiation, which is why you need to take the recommended steps necessary to avoid costly repairs by utilizing our Base Care products. It's also important to frequently clean and protect the interior and exterior to avoid damage, drying, and discoloration before and after using your boat with our Maintenance products.
Base Care
Base care starts with our Crystal Cut™ Polish, which easily restores your hull's original finish, making the surface smooth and free from scratches and micro-contaminants. Over time, oxidation and scratches diffuse reflected light caused by microscopic peaks and valleys in your gel coat, paint, or chrome, which can give your boat a dull or hazy appearance. Polishing the surface provides a smooth, consistent finish that reflects the maximum amount of light, yielding your boat's true brilliance and shine while making it less likely for minerals and other water deposits to "stick" to a smooth and clean hull. Seasonal care also includes waxing your hull with our Crystal Gloss™ polymer wax to bring out a deep crystal clear shine and provide a seal for that freshly cleaned and polished surface--protecting it from UV radiation, water spots, and micro contaminants. We recommend polishing your boat once a year, or as needed, and waxing it two to three times a year to keep your boat looking like new. Check out our Crystal Cut and Crystal Gloss video for a quick lesson on how to polish and wax your boat.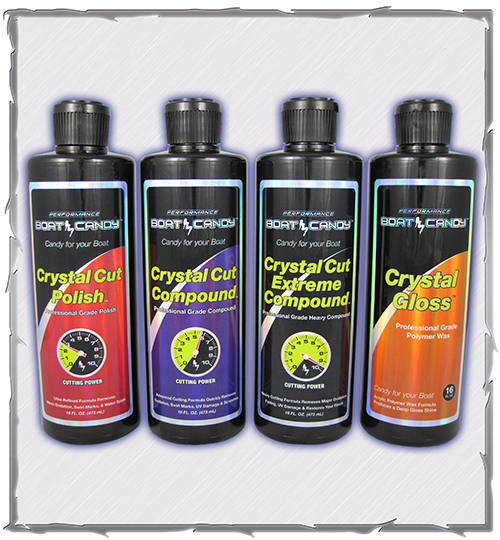 Maintenance
The maintenance portion of the PBC Advantage begins each time you use your boat, or when left outdoors for any period of time. Our boat maintenance products include Speed Gloss™, Vinyl Clean™, and Vinyl Condition™. Speed Gloss is a carnauba-based emulsion containing micro cleaners, and a biodegradable water spot removing agent that's used to quickly clean, wax, and protect your hull each time you use your boat. Finishing out the maintenance of your boat involves cleaning and protecting your vinyl interior with Vinyl Clean and Vinyl Condition. Both products are pH balanced formulas used to maintain and provide UV protection for your boat's vinyl and rubber, which keeps it soft, moisturized, and protected from fading and cracking.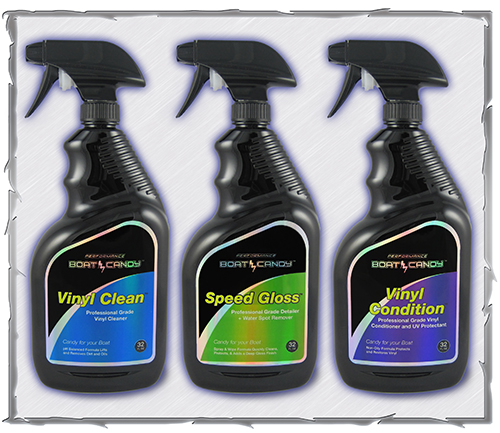 The PBC Risk Free Guarantee
When you produce products using the finest ingredients available, coupled with extensive research, testing and development, and the goal to provide the best boat care products in the world, it's easy to offer customers a 100% money back guarantee. This guarantee covers product quality and effectiveness for not just our end-customers, but also our retailers and distributors. If a customer is not satisfied with our products for any reason, we'll refund the purchase price, no questions asked. The Performance Boat Candy name is my personal guarantee of satisfaction.
Tim Weinzirl
Founder
Performance Boat Candy

Performance Boat Candy makes cover of Performance Boats Magazine - September 2011 issue